Join Our Team

Thorn Baker Group isn't your typical recruitment agency. We don't pretend to be a corporate family; what makes us stand out is the way we work, and develop our people.

​

Whether you're an experienced recruiter looking for your next career step or you're looking to start a career in the recruitment industry, joining Thorn Baker Group will mean you're working with people that want to maximise your potential and develop your career.

​

​

What we offer:

Straightforward, no-nonsense commission structure that encourages consistent performance and helps drive your career forward

Personalised development programme based on your level of experience and ambitions

A clear career progression path with realistic targets

Perks that reward hard work and positive outcomes for everyone

Hybrid working options

Perkbox employee discounts

European city break (performance based)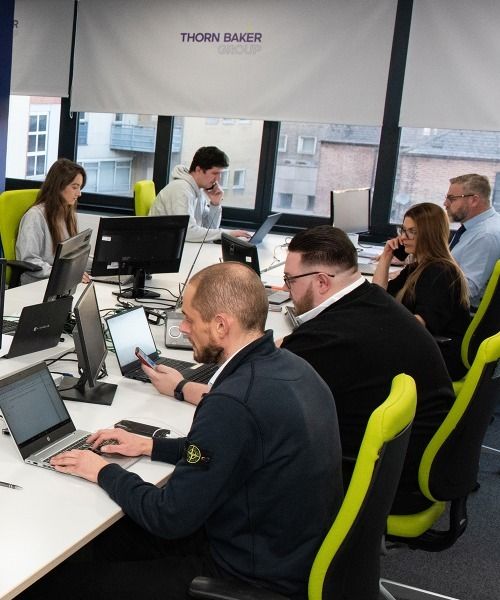 1.

Let's talk​

A chat and a brew to give you an overview of life at Thorn Baker Group.

2.

1st interview​

Your chance to see us in our environment and to get to know each other better.

3.

Reflect

A couple of days thinking time (if we need it), and then onto psychometric testing.

4.

2nd interview

The real nitty gritty, and an opportunity for questions.

5.

Decision time​

You'll get a prompt verbal and written offer from us.

6.

Your 1st day​

The start of your recruitment career begins - welcome to Thorn Baker Group!
​When you wake up every morning excited for what the day ahead looks like, you know you're in the right place and that to me is Thorn Baker.

Why do you love working at Thorn Baker?

​Transparent, Passionate, Family

Three words to describe working at Thorn Baker

​Amazing people, strong core values, and rock-solid ethics.

Why do you love working at Thorn Baker?